Welcome to Talkative Thursday's - Week 8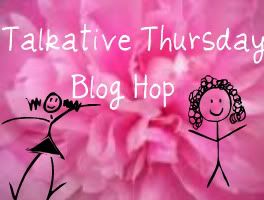 Mommy of One is going through a rough time right now and may not be able to participate in today's blog hop! I told her I would keep her blog hop going while she is managing what she is going through. Please feel free to leave any well wishes for her and I'll make sure she sees the posts.
(Thanks so much)
This week's Feature Spotlight Blog is
What this Mom Knows!
Michelle was the winner of our Button Ad placement for one month!
Congratulations Michelle!
You must follow all 3 blogs to participate.
We also randomly choose a blog each week to feature as the spotlight blog.
RULES:
Follow the blog in the #1, #2 and #3 SPOT.
Grab the Talkative Thursday's button, and make a post on your blog, with the button so new follower's know where to submit comments.
Submit your URL to the linky below, please have it go to your new blog post with the button.
Follow as many blog's as you want!!
If your a new follower, you can leave a comment on this post & on the other host's posting letting us know, and we will follow back.