Please leave a comment if your a new follower so I can return the favor.
I don't always comment, but always follow back, to those who were wondering!
I'm in a rush sometimes! =)

Be sure to check out all my current giveaways!
There are SO many great ones going on now!
Have a wonderful week! =]
Be sure to come back on Thursday for Talkative Thursday's Blog Hop!!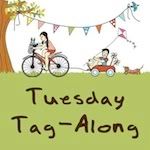 I have a few winners to announce! Thanks to everyone who entered!
Magic Cabin Grocery Cart - #68 - Nichol
Click! Protein Powder - #41 - jhitomi
Remember, you only have 48 hours to respond to the email I sent out!!
Congrats!!!